Michael Blotner, MD, is a reproductive endocrinologist who is board-certified in obstetrics and gynecology and reproductive endocrinology and infertility. For over 23 years, he has been helping patients in his care achieve their goal of having a child through state-of-the-art infertility treatment. Dr. Blotner has dedicated himself to providing personalized, professional care in a relaxed environment.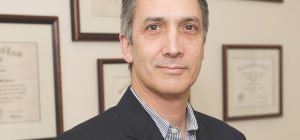 Dr. Blotner completed his undergraduate work at the University of Texas at Austin, graduating Phi Beta Kappa and summa cum laude. His extensive postgraduate training included a four-year residency in obstetrics and gynecology, followed by a fellowship in reproductive endocrinology and infertility at the Michael Reese Hospital and the University of Chicago.
Before establishing his private practice in 1994, Dr. Blotner served as Assistant Professor in the Department of Obstetrics and Gynecology of Pennsylvania Hospital, University of Pennsylvania, and in the Division of Reproductive Endocrinology, Department of Obstetrics and Gynecology, at the University of Medicine and Dentistry of New Jersey, Robert Wood Johnson Medical School.
Dr. Blotner has lectured and published numerous abstracts and scientific papers on infertility and reproductive biology. He is a member of the:
American Society for Reproductive Medicine (ASRM)
Society for Assisted Reproductive Technology (SART)
Society of Reproductive Endocrinologists
He is also a fellow of the American College of Obstetricians and Gynecologists
Dr. Blotner's hospital affiliations include:
White Plains Hospital Center
Good Samaritan Regional Medical Center
Stamford Hospital
Lawrence Hospital Center
Phelps Memorial Hospital Center
St. John's Riverside Hospital
Sound Shore Medical Center
Northern Westchester Hospital